HUMORESQUE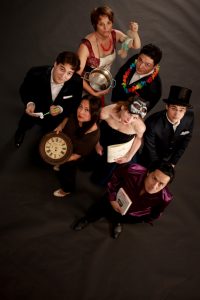 Classical music has gained such an unmerited reputation for being overly serious, stuffy, and elitist, that most people, including musicians themselves, do not realize or have totally ignored the fact that there is so much humour in classical music and around the lives and business of classical musicians. Hyung-ki Joo and friends explore this fun and comical side, not through parody, satire, or foolery as many have previously done, such as Victor Borge, Hoffnung, P.D.Q Bach and more recently, Joo's own duo, Igudesman & Joo, but purely through the music itself, leaving our jester's bag of tricks at home and loyally playing the music just as it is, so that its inherent wittiness can shine through. Because, in all seriousness, this music is great fun.
Furthermore, there has been much literature written about the music that is fun to read, and the world of classical music is full of anecdotes and jokes that really reveal a different side to the deadly serious high-brow image that classical music still has today. The public will be surprised and amused that so much fun happens on stage and behind the scenes.
The programme is interactive with each musician taking part in spoken commentaries, drawing the audience closer to the music and musicians, a spirit of communication that belonged to the world of classical music of centuries ago.
Featuring the music of Purcell, Haydn, Mozart, Beethoven, Rossini, Wolf, Satie, Ibert, Schedrin, Schostakovitch, Poulenc, Hindemith, Cathy Berberian, William Bolcom, Flanders & Swann, and texts by Sir Thomas Beecham, Thomas Bernhard, Alfred Brendel, Glenn Gould, Milan Turkovic, Makokou Kangourou, Mark Twain, and jokes, anecdotes and true stories from and about the lives of performers and composers.