CHAMBER MUSICIAN
The first morning when I woke up at the Yehudi Menuhin School, at the age of 10 years old, I thought I was in paradise. All I could hear around me was music- Haydn String Quartets, Beethoven Piano Trios, Brahms Sextets. Of course, at the time, I had no idea what these pieces were called, but I soon discovered it was something called Chamber Music and over the next seven years, it became a part of my daily existence. There was an enormous attention given to chamber music, in particular, by a man named Peter Norris, an almost guru-like Socratic teacher, who passionately advocated the importance and pleasure of chamber music. I remember classes with the great Hans Keller, where we would spend 90 minutes, week in and out, looking at a Mozart Quintet movement, and scrutinizingly discuss what was more important in the piece, the Dominant, or the Tonic? (These are musical terms, let's say it's the equivalent of "On the way Home" versus "Being at Home")
Later, as my piano and sight-reading skills developed, I started to delve into playing music with others, something that pianists, in general, do far too little. In fact, I strongly believe that in order to truly master the piano, one needs to be able to play music with others- in other words, make chamber music. There is very little of interest to me about the "soloist" or the "virtuoso" pianist.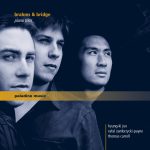 Much later, as a young adult, I spent some of the best seven years of my life working intensely as a piano trio, with two splendid colleagues, also former students of the Menuhin school, violinist Rafal Zambrzycki-Payne and cellist Thomas Carroll.
I have also been one real lucky bunny to have shared the stage making chamber music with musicians such as Gilles Apap, Lidia Baich, Renaud Capuçon, Thomas Christian, Michael Collins, Gervase de Peyer, Martin Fröst, Viviane Hagner, Janine Jansen, Gidon Kremer, Monika Leskovar, Dame Felicity Lott, Mischa Maisky, Christian Poltera, Lawrence Power, Thomas Quasthoff, Julian Rachlin, Radovan Vlatkovic, the Belcea Quartet and members from the Alban Berg, Artis, and Ebène String Quartets, and every one of those collaborations and performances are among my most treasured musical experiences.
There are a lot of things I love to do in my life, and I'm fortunate to be able to do them, but one thing is for sure, my musical life would be incomplete without chamber music.
© 2016 Hyung-ki Joo
"Hyung-ki Joo is the perfect chamber-music pianist, one who is perfectly balanced with his colleagues and who has an imaginative response to the music he plays without drawing attention to himself." – Classical Source